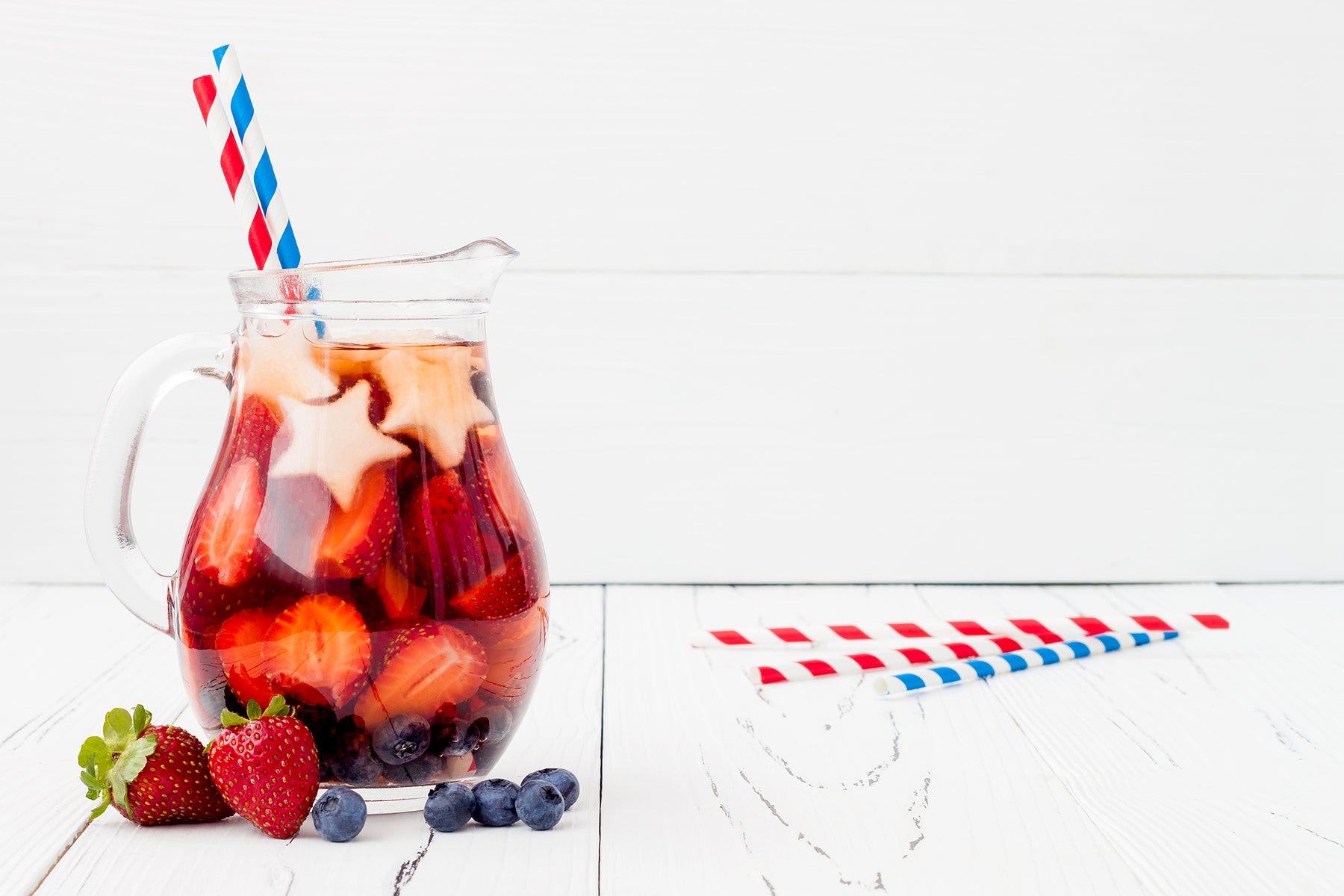 Stars and Stripes–Infused Water
Warmer weather is quickly approaching, so we're all going to need a refreshingly crisp beverage to welcome the summer season. Memorial Day, which commemorates those who died while actively serving in the military, also signals the start of summer and its sunny weather, outdoor activities, and vacations or staycations.
While the COVID-19 pandemic may prohibit us from hosting BBQs and throwing pool parties to celebrate, there are plenty of fun ways to spend your day off from work. Cool down on this 3-day weekend by sipping on this delicious and festively infused water.
This flavorful and lightly sweet fruit water is colored red, white, and blue to represent the colors of the American flag. To achieve this look, you are going to use strawberries, blueberries, and your choice of pears or apples to flavor your water. Feel free to use any of your favorite fruits with these colors to put your own spin on this refreshing drink recipe!
Not only will this chilled drink quench your thirst, but the minerals from the fresh fruit will also provide a variety of benefits! Strawberries are super sweet but low in calories and rich in manganese and vitamin B, which can boost healthy tissue and skin growth. Blueberries are bursting with fiber and vitamin K, which make them great sources of antioxidants that protect your body from diseases like cancer.
You will need:
1 pitcher of fresh filtered water

2 cups of strawberries

2 cups of blueberries

1 apple or 1 pear (you choose!)
Step One: Wash fruit ingredients.
Step Two: Slice the strawberries and your apple or pear into bite-sized pieces. (If you happen to have a star-shaped cookie cutter, you can cut your chosen white fruit into the shapes of stars as an edible representation of the fifty states on the flag!)
Step Three: Add all cut fruit ingredients to your pitcher. Fill with fresh filtered water.
Step Four: Stir.
Step Five: Pop this festive water into the fridge to chill or add ice cubes and serve right away!
Pro Tip: For instantly chilled flavored water, prepare your Memorial Day–inspired water with the help of a Brio Cooler! This 300 Series Bottleless Brio Water Cooler is slim enough to fit in any size home and will always deliver fresh filtered water with the advanced 2-stage filtration system.
Your water will be dispensed cold for immediate serving, and it will have an improved taste, smell, and appearance with the help of the powerful filters.
Pair this patriotic thirst quencher with some homemade sweet potato salad, juicy watermelon slices, and tasty burgers, and get ready to chill all Memorial Day weekend long. This colorful fruit-infused water is the perfect low-calorie substitution for those craving a sweet summery drink. Serve your Stars and Stripes water in mason jar glass cups and drink up all summer long!
Check out some more summer-infused water recipes here.