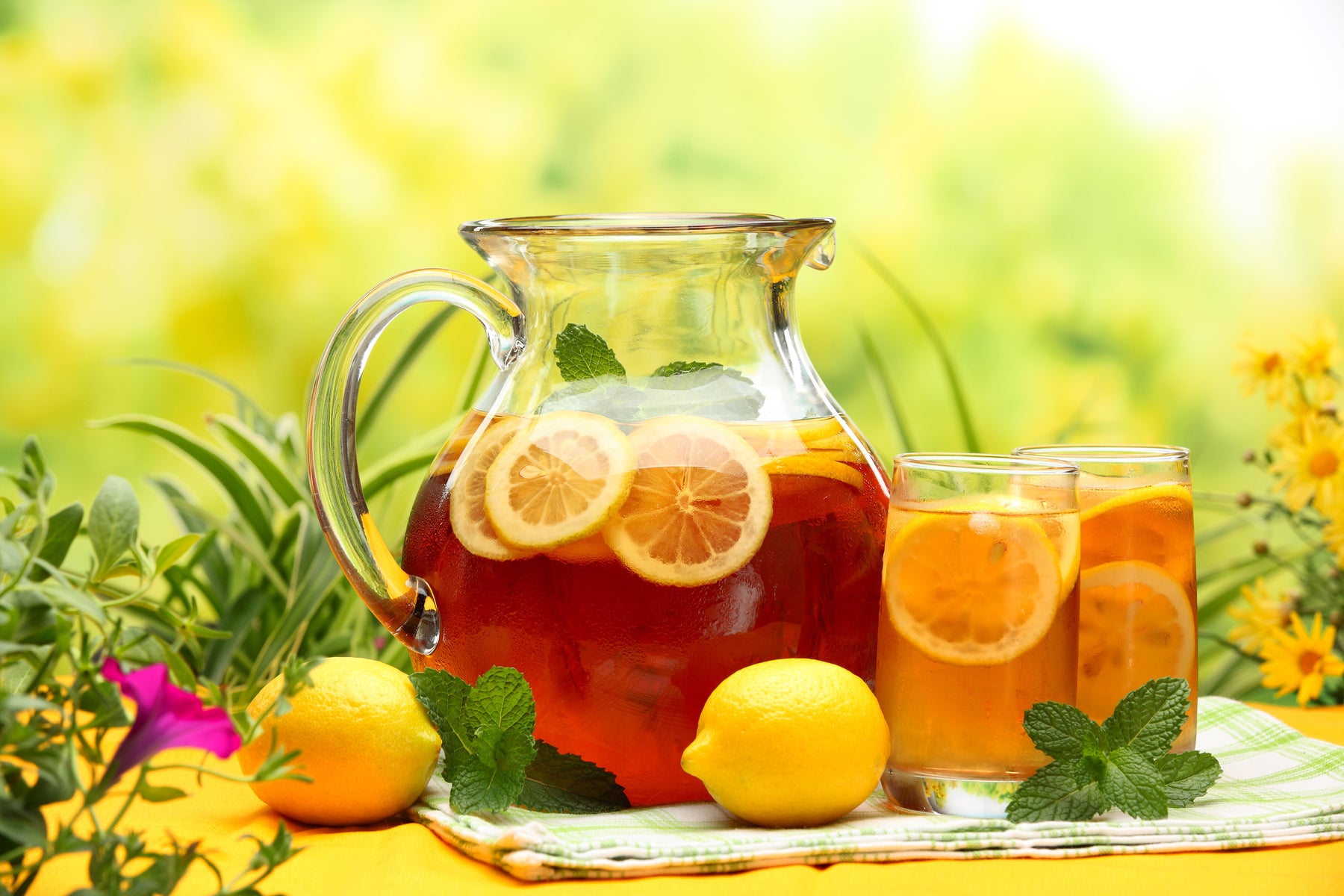 5 Delicious Iced Tea Recipes from Around the World
By Sheila Anthony
We traveled the World Wide Web and found these amazing iced tea recipes for you to make and savor during the last (and frequently hottest) days of summer. Enjoy!
Ginger-Lemongrass Iced Tea, Sierra Leone
Adapted from Recipes from a Pantry by Bintu, this iced tea recipe was inspired by Bintu's childhood in Sierra Leone. This rooibos tea is infused with refreshing lemongrass, vibrant ginger, and a touch of sweet honey.
Ingredients
1 large stalk lemongrass, thinly sliced or minced
2–3 tablespoons peeled, sliced ginger
6 rooibos tea bags
1 quart filtered water
3 tablespoons orange blossom honey
Lime slices
Fresh mint
Steps
(Note: Remove the outer leaves and tough, woody end from the lemongrass before thinly slicing or mincing.)
Put the lemongrass and ginger into a saucepan. Pour in water and bring mixture to a near boil. Lower heat and simmer mixture for 1 minute, then remove from heat.
Add tea bags and 3–4 leaves of mint and steep for 8–10 minutes. Remove tea bags and mint leaves and discard. Allow lemongrass and ginger to continue steeping.
Stir orange blossom honey into the tea and set tea aside to cool, then refrigerate until chilled.
Remove tea from the refrigerator and strain it into a pitcher, discarding the lemongrass and ginger.
Fill tall glasses with ice, pour in tea and garnish with mint and lime slices.
Health bonus points
Rooibos tea is rich in antioxidants, particularly unique polyphenols like aspalathin which may protect against oxidative stress. And at 4.4%, rooibos is also low in tannins, making it an excellent choice for those who prefer a milder tea.
Classic Southern Sweet Iced Tea, U.S.A.
Linda Ly of Garden Betty spent two weeks visiting Alabama, Mississippi, and Louisiana, where she got hooked on Southern-style sweet iced tea. A kind woman finally revealed the recipe to the Oregonian, including the secret ingredient: baking soda.* Here's our adaptation:
Ingredients
Tea:
¼ teaspoon baking soda
2 quarts filtered water
4 family-size or 10–12 regular-size black tea bags (bergamot-infused Earl Grey adds a note of citrus)
3–4 mint leaves (optional)
Simple syrup:
1 cup filtered water
¾ cup sugar
Steps
Place tea bags, baking soda, and mint (if desired) into a heat-proof pitcher.
Bring 2 quarts of water to a near boil, then pour into pitcher. Stir briefly, then let tea steep for 5 minutes.
While the tea is steeping, make simple syrup by combining water and sugar in a small saucepan over medium heat. Stir until sugar is completely dissolved, then remove saucepan from heat.
Remove tea bags from pitcher. Wring out as much liquid as possible.
Pour the simple syrup into the pitcher, stir to combine, and let tea cool to room temperature. Refrigerate until chilled.
Pour into ice-filled glasses and garnish with fresh mint and lemon slices.
*According to Linda, the baking soda is added to neutralize the tea's tannins, which results a smoother taste.
English Iced Tea, England
Yes, the English do drink their tea iced. And who knew the venerable BBC had a foodie page? You'll find the original recipe there, plus great ways to flavor it with herbs, elderflower, fruits, or even alcohol. Here's our version:
Ingredients 
6 English breakfast tea bags (use Earl Grey if you prefer a fruitier taste)
2 tablespoons superfine sugar
1 tablespoon orange blossom honey
3 small lemons, 2 juiced and 1 sliced
1 orange, sliced
5 quarts filtered water
Fresh mint
 Steps
Bring 1.5 quarts of water to a near boil, then remove from heat. Add superfine sugar and orange blossom honey, stirring until dissolved. Add tea bags. Steep for 10 minutes.
Remove tea bags. Let tea cool, then pour into pitcher and transfer to the refrigerator to chill.
Remove tea from refrigerator and add lemon juice, lemon slices, orange slices, and mint. Stir well.
To serve, pour iced tea into glasses filled with ice. Garnish with extra mint if you like.
Hibiscus Iced Tea, Mexico
Lily of A Mexican Cook posted this delish iced agua-fresca recipe. Although she's been living in Ireland for many years, she missed her homeland's food so much, she and her Irish husband opened a Mexican food store right in Dublin. Here's our adaptation of her original recipe:
Ingredients 
Tea:
(Note: Dried hibiscus flowers can be purchased online.)
½ cup dried hibiscus flowers
2 quarts filtered water
3 tablespoons fresh lime juice
 Simple syrup:
½ cup granulated sugar
¾ cup filtered water
 Steps
Place flowers in a large saucepan. Add water. Bring water to a boil. Immediately cover the saucepan with a lid and lower the heat, letting the mixture simmer for approximately 15 minutes.
While flowers are steeping, make the simple syrup by combining water and sugar in a small saucepan over medium heat. Stir until sugar is completely dissolved, then remove saucepan from heat.
Remove the saucepan from the heat. Allow the tea to cool, then strain flowers. Add the simple syrup and fresh lime juice to the tea and stir to combine. Pour tea into a pitcher and transfer to refrigerator to chill.
Serve in ice-filled glasses and garnish with mint if desired.
Health bonus points
Hibiscus flowers are chock full of vitamin C and minerals that boost your immune system and support tissue growth and repair. It's also been reported in The Journal of Nutrition that one cup of hibiscus tea a day can help lower high blood pressure.
Iced Matcha Latte, Japan
The final stop on our tour is at kettl where you'll find an easy recipe for an iced matcha latte. Okay, not quite a tea, but chilled and tasty nonetheless! And the recipe is easy to adapt for more than a single serving. Here's our version of it:
Ingredients
¾ teaspoon of matcha powder
¾ cup oat or almond milk
¼ cup hot filtered (but not boiling) water
2 teaspoons of honey, or to taste
Steps
Fill a 12-ounce cup or heat-proof glass with ice cubes and add milk.
In a small bowl, whisk together the matcha powder and hot water until a fine foam appears.
Add honey and continue whisking until combined.
Pour matcha-honey mixture over ice and milk.
Enjoy!
 Health bonus points
Matcha is high in potent flavanols, commonly known as catechins. These are famous for their beneficial properties regarding human health, including anticancer and antidiabetic benefits. Also, oat milk and almond milk are great nondairy alternatives for those who are lactose intolerant or vegan.
Finally, when it comes to all teas, water should not be brought to a full boil ever. In fact, different types of teas require different steeping temperatures. For all tea nerds and tea-nerd wannabes, the Teal Leaf Journal has an interesting and informative read on the topic.
But if you don't want to invest in a candy thermometer or learn how to "read" a pot of water, we have the perfect solution: the Brio Moderna Reverse Osmosis Bottleless Water Cooler. Its genius is that you can preset your preferred dispensing temperature for both hot and cold water. (And, of course, you can enjoy room temp water too.) The hot water adjusts from 174°F to 194°F and the cold water adjusts from 39°F to 59°F. And all dispensed water goes through powerful 4-stage filtration, including reverse osmosis, so you'll always enjoy the purest water there is for your tea, coffee, and drinking water. And with a sleek, modern design, this durable stainless steel cooler looks great in any home.
Hope you've enjoyed the iced tea "journey." Steep responsibly and have a wonderful rest of your summer!