‹
›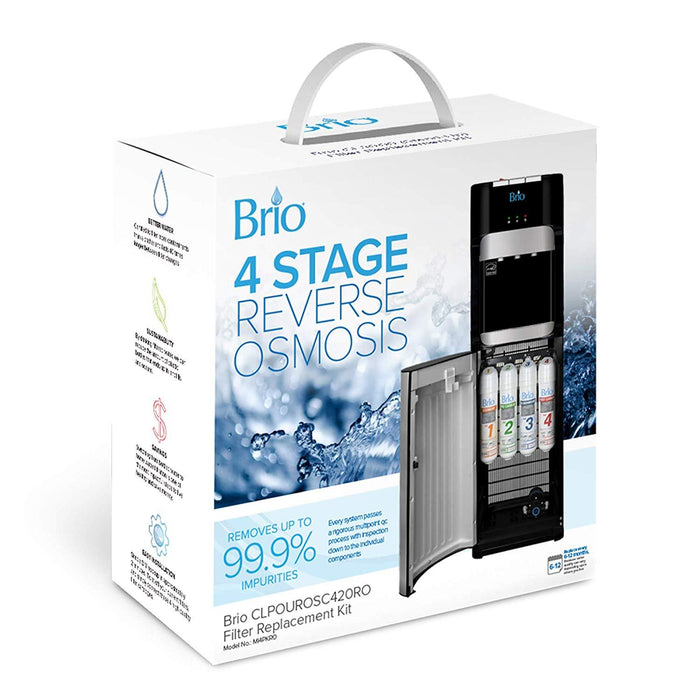 Brio 4 Stage RO Water Cooler Filter Replacement Kit - for Models CLPOUROSC420RO and CLPOURO420SCV2
ONLY FITS BRIO MODEL CLPOUROSC420RO and CLPOURO420SCV2 - Brio Commercial Grade Bottleless Ultra Safe Reverse Osmosis Drinking Water Filter Water Cooler Dispenser-3 Temperature Settings Hot, Cold & Room Water - UL/Energy Star Approved – Point of Use

Up To 100x More Powerful Than Fridge Filters - Each of the hundreds of hollow fiber ultra membranes within this filter have a pore size as small as 0.02 microns, compared to the 2 micron average pore size of a refrigerator filter.

500,000 Square Feet - Each filter core is comprised of a matrix of tiny activated carbon powders. Together their combined surface area can exceed 500,000 square feet!

Nanofibers - Rifled and woven nanofiber core provides both a high flow rate and 10 micron filtration.

Effective For Reducing - Rust flakes, sand grains, dirt, large cysts, other sediments and particulates, suspended solids, bacteria, colloidal silica, pyrogens, large organic molecules, and undesirable taste, odor, color.