‹
›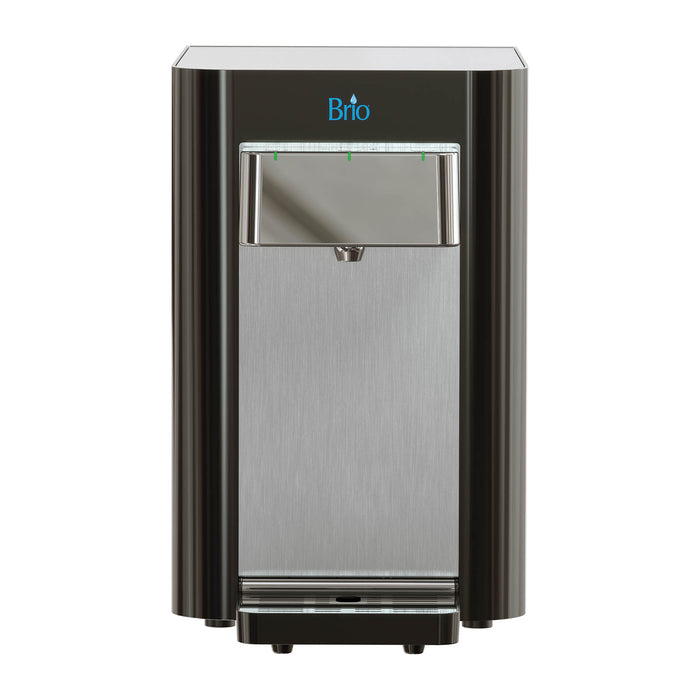 Brio Countertop Self Cleaning Bottleless Water Cooler Water Dispenser - 2 Stage Water Filter included
HOT, ROOM, & COLD WATER: When you use our P.O.U. bottleless water cooler dispenser you can choose between crisp cold, room-temperature and piping hot water, making it ideal for cool refreshments or toasty beverages. Always have perfectly cool or hot water on hand with the cooler that goes above and beyond, so you never need ice or an appliance to cool or heat water. Brio engineers ensure that you have access to pure water at any time, day or night.

BOTTLELESS POU: Our water cooler is bottleless and will reduce the cost of constant purchase of water. Tap water is filtered using our dual filtration system, consisting of a sediment filter and a carbon block filter, to deliver pure water every time. The first stage features a premium sediment filter that removes dust, particles and rust. The second stage further purifies water through the premium carbon block that removes chlorine, cloudiness, odd tastes and odors.

SELF-CLEANING: UV-CARE by Brio is an automated disinfecting device that automatically disinfects your Brio water cooler giving you the peace of mind that your water cooler is sanitized. Brio uses a powerful UV Light to disinfect, as it is one of the most effective ways to kill 99.99% of disease-causing microbes. A clean cooler shouldn't be complicated, so we simplified it for you.